SCRIPTURES
Romans 5:8
But God demonstrates his own love for us in this: While we were still sinners, Christ died for us.
John 3:16
For God so loved the world that He gave his one and only Son, that whoever believes in him shall not perish but have eternal life.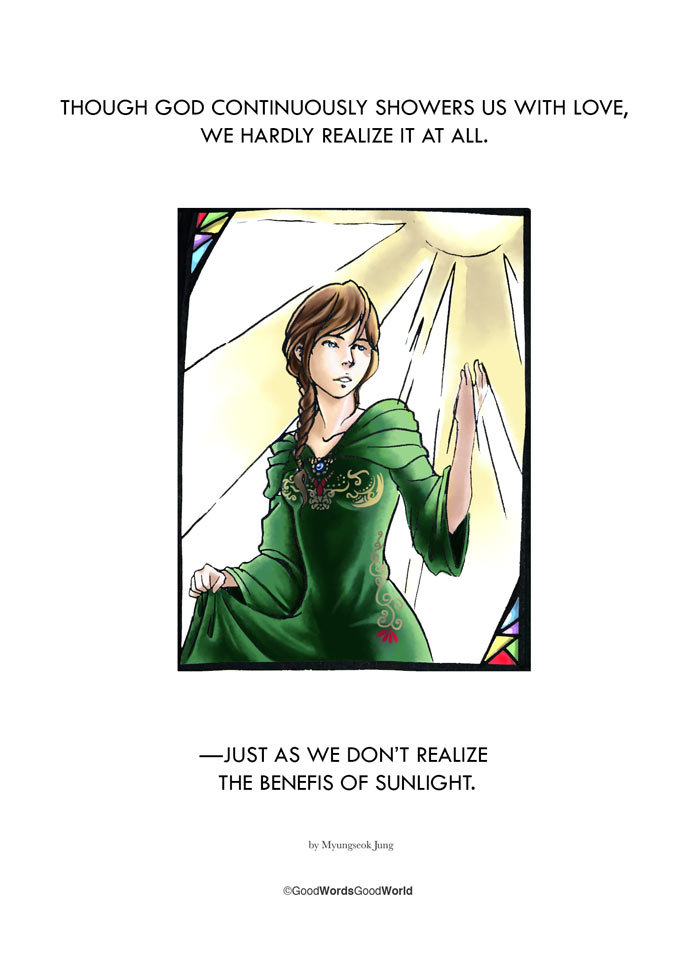 "When it is God's Will, He accompanies you.
When it isn't God's Will, He leads you back to the path of His Will."
-Myung Seok Jung
Romans 5:8 was written in reference to Jesus' time. God gave us everything that He needed to give through Jesus' death on the cross because it was the work that God carried out using the body of Jesus, the one He had sent.
God even had the one He sent die for the sinners, so what more could He possibly do, right? That is why God had the apostles write down the words, "This now demonstrates My love. Since it was completed with love, it is finished. It is as if the whole world has been sown with love."
The origin of love
What kind of god is God? God is many things, but He is the origin of love. Also, we are the outcome of His love. Thus, we and God must live with love. God loves us and, in turn, we should live loving Him.
God's love is so great that He even loves those who are oblivious to His love. God loves everyone—not just those who know and love Him.
It is like the sun that always shines regardless of whether or not you know of its existence. But still, the sun makes us healthy through its light, gives us the energy of love, and also solves problems in life. Just as people receive the sun's help whether they know it or not, God who is the origin of love loves all people whether they know it or not. God loves people till the day they die.
A very important fact about God is that God cannot contain Himself when it comes to all matters of love.
God provides the resources with which people can make things on their own, and He created human beings with love so that they could do things themselves.
The great love of God
God's love doesn't come in only one form but in thousands of forms. God shows love differently for different moments, doing what is most appropriate and needed at each moment. For example, depending on the situation, He may express love through buying you food, buying you an outfit, buying you a gift, embracing and loving you, talking to you, helping you solve a problem, etc.
It was written in John 3:16, "For God so loved the world that He gave His one and only Son."
God created the universe, human beings, nature, and the creatures in Heaven and on Earth. He also saved human beings and allowed them to come to Heaven.
In order to save people, there needs to be a Messiah—the one whom God has sent.
The greatest love shown by God is that of sending the Messiah. It is because God comes to the world through the one He sends. He uses their body and speaks. And sometimes, He even speaks directly.
The Scripture from John 3:16 is the main message, the central message about God's love, and the essential message' in all aspects of the Old and New Testaments
God's greatest work
God's greatest work was the work of sending the Messiah.
Why? This is because God's salvation history began, and the history of opening the gate to Heaven happened by sending the Messiah.
God so loved the world that He sent His one and only son. God sent someone He loved. Why? It was so that human beings may receive eternal life!
If you want to receive salvation and eternal life, you need the Word. He must come and preach God's Word, and you must listen to that Word and put it to action. Only those who do that can receive salvation.
If people do not have a counterpart of love, they cannot love. They can only love themselves. It is the same for God who is a bundle of love as the Creator.
Even if God possesses the love of the Creator, He cannot demonstrate His love if there isn't a counterpart to love. Therefore, human beings need to realize about God's immense love and live fulfilling counterpart love with God.